Pain McShlonkey Classic Returns to Squaw Valley
---
Witness the greatest ski competition known to man or woman! The Pain McShlonkey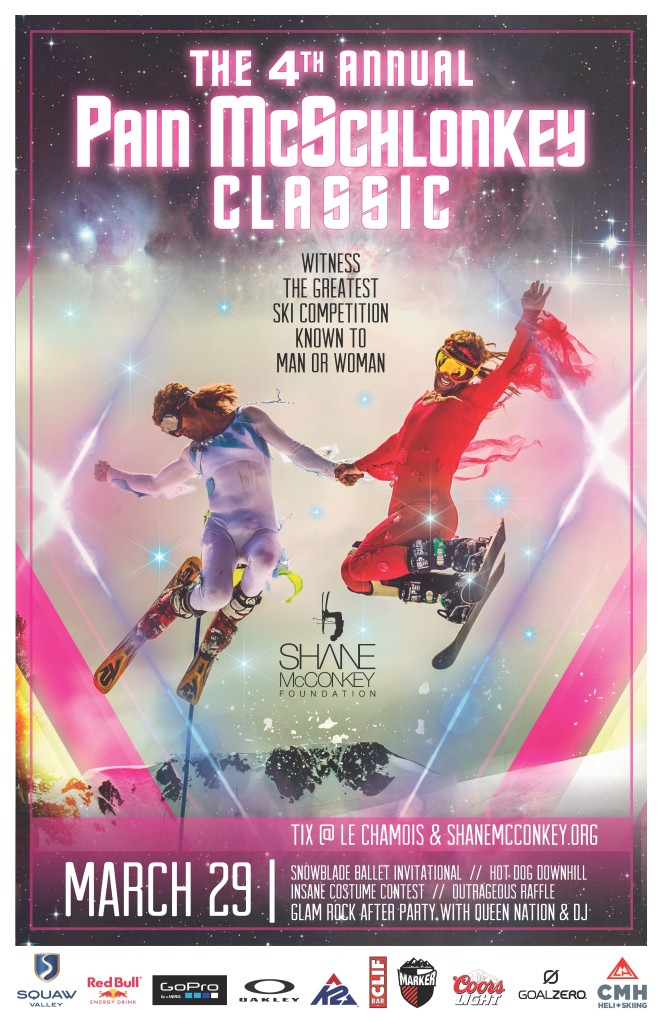 Classic (PMS) returns to Squaw Valley March 29, 2014. Now in its fourth year, this action packed on- and off-mountain event serves as a hilarious tribute to legendary skier Shane McConkey where the winner is crowned fastest snowblader on the planet and incredible funds are raised for charity.
Saturday's on-mountain antics promise excitement and entertainment for all as the World's top winter athletes converge in ridiculous outfits and snowblades for what's arguably the most anticipated spectacle of the winter.
Hosted by the Shane McConkey Foundation (SMF) the event has grown to be a highly successful fundraiser for local non-profits. "The mission," says SMF founder Sherry McConkey, "is to celebrate the life of a man who revolutionized the ski industry and kept us on the edge of our seats with laughter – and in doing so we can support causes that Shane cared about." This year's event will once again benefit Make-A-Wish Foundation and the Tahoe Truckee Unified School District's environmental education programs.
"Our goal is to inspire sustainable practices within our school district and beyond," says McConkey. "In collaboration with Protect Our Winters, we've launched a nationally recognized Eco-Challenge and we're really excited about proposals we're working on with the schools in 2014," she adds. "And the work we do with Make-A-Wish is priceless. Shane was a huge supporter of that program and he would be so proud of the wishes we've granted."
The festivities begin on Saturday at 9 a.m. as athletes line up atop the legendary KT-22 chairlift for an all-out snowblade blitz. The pros will take on 30 amateurs in an anything-goes battle to the finish. In the spirit of the McConkey's goofy style, this year's contestants have been selected to compete by submitting their most awkward photo in an online contest. "The idea is to remind people not to take themselves too seriously," says McConkey. "Shane constantly laughed at himself and taught others to do the same and that's part of his legacy that we want to celebrate."
Contenders will include everyone from highly decorated Olympians like Daron Rahlves to wanna-be pros and everyday Joes. "Snowblades even the playing field a little bit," says McConkey. "The pros have the natural advantage but we're all still rooting for the underdog," she says. "With a very 'loose' rulebook, anything can happen." The winner will take home the coveted Pain McShlonkey Golden Saucer trophy.
NEW to this year's line up is a Snow Blade Ballet to be held at the base of Squaw's Exhibition chairlift. Spectators will cheer on winter sports legends as they spin, prance and flip their way into the hearts of esteemed judges like former ski ballet champion Troy Coldwell. "Again, the idea is to put some humor into a scene, that at times, is a little too serious," says McConkey.
Next up is the PMS Costume Contest held on Squaw's KT Base Bar Sun Deck. This contest is open to everyone with great prizes awarded for best dressed. Awards will follow directly.
The grand finale After Party will include a tribute to one of the most iconic rock bands of all time – Queen! Glam rock attire is encouraged. Guests must be 21 or older to attend with valid ID required. Tickets are available for purchase at www.shanemcconkey.org and Le Chamois. Party is held at the Squaw Valley Conference Center (formerly Olympic Village Lodge). Tickets sell out. Advance purchase recommended. Doors open at 8p.m.
The Shane McConkey Foundation encourages skiers, riders and resorts around the world to celebrate the spirit of McConkey during this weekend. "The best way to keep Shane's legacy alive is to remember to laugh at yourself and live life to the fullest," says Sherry McConkey. "Even if you can't be here on March 29, you should still do something outrageously silly and fun to honor this amazing man."
For event details, registration information, after party tickets or to make a donation to the Shane McConkey Foundation, visit www.shanemcconkey.org.
Times and venues are subject to change pending weather.
---
---