2017 Shane McConkey EcoChallenge Winners
The 2016 Shane McConkey EcoChallenge Winners are:
1st Place:
Fore the Ocean
Independent Project, Monterey Bay, CA
Participants: Alex Weber and Jack Johnston
Project: Our project has been to remove golf balls in the ocean under the cliffs of Pebble Beach Golf Course. We have removed 12,000 balls over the last 10 months. This project is about the greater issue of Plastic Pollution in our ocean. The balls we remove are in all sorts of decay from new to unraveling rubber cores. These balls break up into small pieces of plastic that pollute the Monterey Bay National Marine Sanctuary, where we live and where these golf courses are located. We have many coastal golf courses and riverfront golf courses that recently started showing evidence of balls flowing out of the river into the ocean as well. This made us realize that the impact is much larger than we originally realized.
We have been working with The Pebble Beach Company, The Monterey Bay Aquarium and the Monterey Bay National Marine Sanctuary to implement an ongoing program to minimize this impact going forward. The Pebble Beach Company has agreed to conduct weekly beach clean-ups and monthly underwater clean-ups.
We were lucky to present to the staff at the Monterey Bay Aquarium. Dr. Kyle Van Houten recommended that we write and publish a scientific manuscript based on all the information we presented. Since we don't know how to do this, we asked Dr. Marcus Erickson from 5 Gyres to be an advisor to us. We met him in February at the Algalita Youth Summit on Ocean Plastic Pollution. He has created a template for us and will help us to make this happen over the summer once we return from our semester abroad. Dr. Erickson studies plastic ocean pollution worldwide and was responsible for banning microbeads in cosmetics! We are looking forward to getting this done.
We have over 12 thousand golf balls in our garage sorted into various barrels based on stages of decay. We have researched the types of plastics used in golf balls, and have many questions about the impact the microplastics they are creating have on the marine environment. We know (from the MSDS for the chemical) that the core of the balls contain zinc acrylate, which is very toxic to aquatic life. We know the exterior of the golf ball is made of polyurethane and that it literally gets sanded off by rubbing on the sandy bottom and rocks of the sea floor. Nobody knows where this polyurethane residue ends up but we know it is missing from a large percentage of the balls we recovered.
We also have observed that there are underwater seasons. The ocean changes all year long. There are times when the kelp is thick and covers the sea floor, in the winter the storms rips out all the kelp and make it easy to see the bottom, in the summer the sand moves in and covers the bottom, burying the balls, in the winter the big storms move the balls and throw many onto the beaches. They have become part of the cobble and ecosystem. We think that there are thousands of balls out there but don't know exactly where. It is an on-going study.
2nd Place:
Donner Trail Trackers
Donner Trail School, Truckee, California
Participants: Braxton Campbell, Isabelle Wogsland, Andrew Buchanan, Jacob Durgin, Daisy Melen, Kesler McPherson, Lyla Spear, Holly Miller, Damian Herrera, Maya Fernandes, Avery Buchanan, Reese McPherson, Ashlynn Johnston, Darren Campbell, India Welch, Larkyn Haugen, Hayden Featherston, Griffin Tescano, Adeline Purvance-Rassuchine, Jason Hoyt-Plank, Kit Vincent, Ethan McCormick, Brynn Hanley, Sebastian Baranchuk, Stellan Huagen, Rebeca Lane, Lucas Hoyt-Plank, Violet Mckenzie & Ella Nishimori Project: This project provided an opportunity for Donner Trail students to become aware of how much food is wasted during the lunchtime meal and how composting organic food waste can reduce the amount of solid waste that ends up in landfills.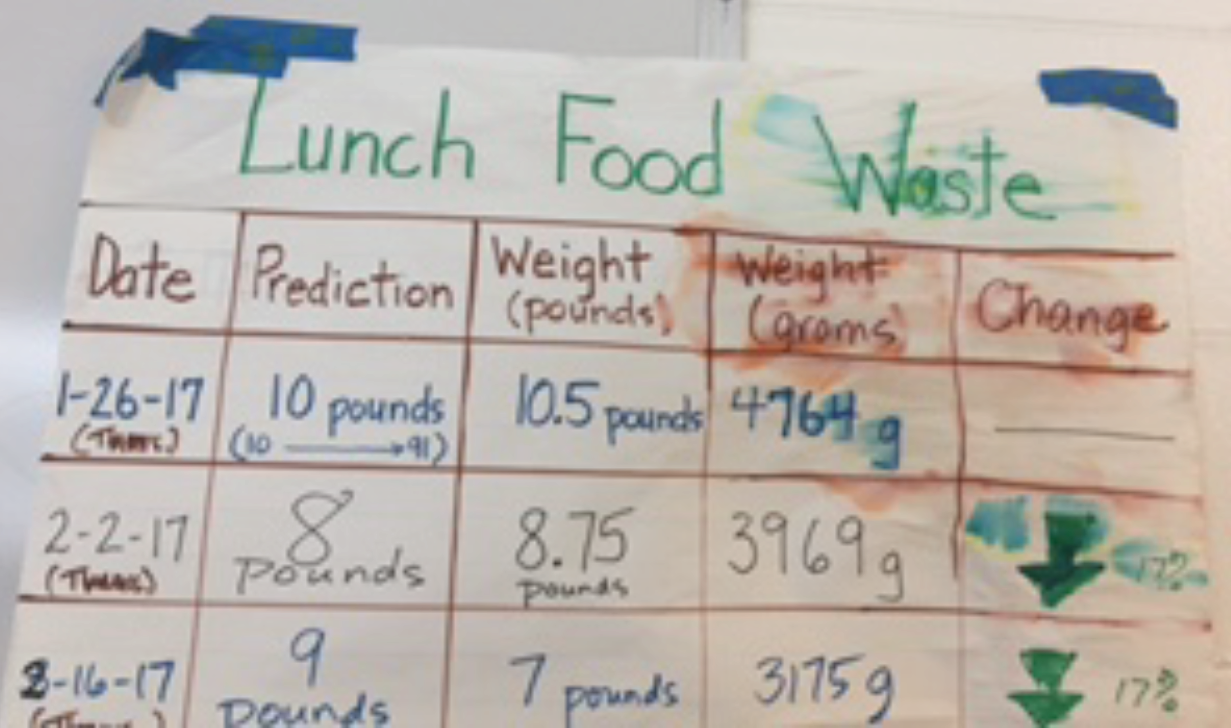 In the U.S., food waste is the second largest category of municipal solid waste sent to landfills. About 40 percent of food goes uneaten and gets thrown away to landfills. The food waste in the landfills increases the production of methane gas (a greenhouse gas) that is a significant contributor to global warming. If this food waste were to be composted instead it would help make useful soil, divert waste from landfills, and would not produce methane gas.
The state of California has recognized the importance of recycling organic waste, which makes up 34% of California's waste stream, and has recently taken steps to divert organic waste across the state (http://www.calrecycle.ca.gov/organics/). This project will also inform students and parents about the state's organic waste diversion initiatives.
Students learned about food waste first hand. They studied the amount of food that they are wasting in their own cafeteria so that they can try to waste less food. The organic waste was weighed after lunch once a week. The students predicted the amount of waste they would produce and they made a chart to record the amount of food waste produced each week. The teachers used the opportunity to discuss the change in waste that occurred during the previous week(s). The students were really surprised to learn how much the food is wasted (by weight) and were motivated to reduce their waste.
Students learned about the process of vermiculture composting (worm composting). Over a period of weeks, students investigate how long it takes different foods to compost. The students were curious if worms can eat some foods faster than others so they can learn how long it takes different types of food to turn to soil. Both the amount of food they waste and the type of food they waste can have an affect on composting.
The project was successful in helping the students reduce the amount of waste they produce in the cafeteria. The food was was reduced by 33% during the 2 months that the project took place. There was a marked difference between the first day cafeteria food waste was measured, before the worm composting and food waste projects started, and the following week once students had begun learning about food waste (17%).
The students also completed several experiments testing the types of food worms will decompose and the rates at which this decomposition happens. Students learned that the physical characteristics of food (size and hardness) make a difference on how fast it is decomposed. They also compared their experimentally determined rates of decomposition to the amount of food waste produced in the cafeteria in an effort towards designing a system that could divert all food waste at Donner Trail from the landfill.
3rd Place Was A Tie! 3rd Place Winner #1:
Ecowarriors
Edward C Reed High School, Sparks, NV
Participants: Gysel Hernandez, Kendr Lopez, Fernando Chavarria, Alfredo Chavarria, Zack Grow, Ivelyn Izquierdo, Aliya Lange, Carla Hernandez, Andy Gorum, Ryan Vasquez, Juan Villanueva Lopez, Carlos Hernandez-Vasquez, Kerra Curley
Project: Straws and other plastic items are choking up our waterways and oceans and negatively effecting wildlife in the process. Our project combats plastic pollution in two ways- first it raises awareness in our student body through daily informational announcement, posters and video. Secondly, it encourages students to use alternatives to plastic by offering students a reusable glass straw in exchange for a pledge- a pledge to refuse plastic straws.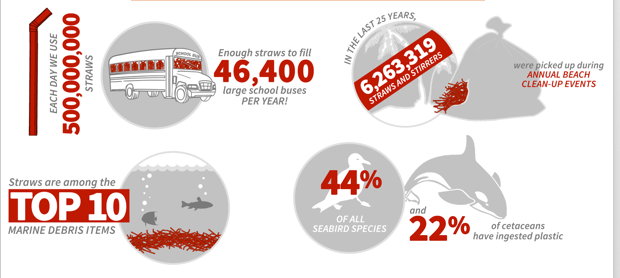 Our completed project will put glass straws into the hands of 300 students. The straws will also require that the student pledge to refuse for at least one month- saving up to a straw per day for 300 students or 9000 straws in the month of March if each student follows through on their pledge. Our pre-survey showed that students generally accept 1-2 straws per day and we hope that at the end of the month our survey will show that they refused a straw per day.
Students distributed 230 of 300 straws with a pre- straw survey. Videos played on TV's to raise awareness and encourage students to take the "refuse single use straws" pledge. Students signed the pledge and vowed to only "reuse" glass straws and refuse plastic straws. Post survey taken and pledges counted to assess success of campaign. Students took a bundle of paper straws to community local businesses to encourage them to consider paper over plastic straws.
This project has been successful in getting gt 230 students commit/pledge to refuse plastic straws and to use glass straws. It was challenging to get the information to all students and to get them to commit. We raised awareness by using video, announcements, posters and word of mouth. We learned that we needed a more quantifiable method of recording how many straws were refused but the commitment to refuse was our best quantifiable data with 230 students committing to refuse.
3rd Place Was A Tie! 3rd Place Winner #2:
LHS Environmental Justice and Sustainability
Lincoln High School, Portland, OR
Participants: TBA Project: The Environmental Justice and Sustainability class has done a lot of activism to push our city and state governments to reduce our use of fossil fuels and diesel that further climate change and the greenhouse gas effect. By giving testimony to our city councilors and advocating for cleaner diesel, we are pushing our community closer to being less fossil fuel reliant and more eco-friendly. We have also spread awareness of the environmental justice movement and educated people of all ages on different aspects of climate change. From 5th graders in local elementary schools to adults at public forums, we teach people what it environmental justice is and why it is important to care about this movement.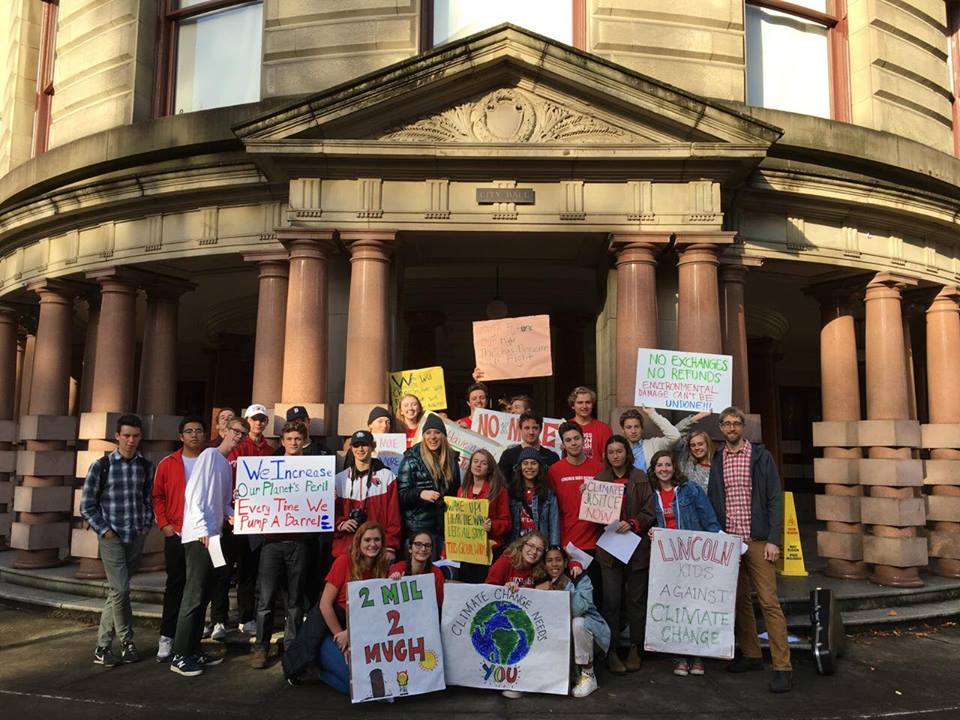 Within our class, there are many different groups focusing on combating climate change and climate injustice in many different ways. One of these groups is the Educating the Youth group. The focus of these students is to educate and spread awareness to elementary and middle school students about the climate struggles and injustices that are occurring around the world today. By reaching out to teachers of these schools and physically going to their classrooms around the Portland area, they are educating and energizing the next generation on the greatest issue of our time. This group has helped many students make real connections in their understanding of climate change, which is really amazing. In addition to the education group, an Artivism group (a group focused on using art as a form of activism) and a film group are working to inform other students within our own high school through showing environmentally related art and environmental documentaries. The art group has scheduled an art show that will happen close to Earth day and the film group has received copyrights from Josh Fox' production company to show one of his films that features content on current climate issues.
In order to make our projects happen, we stuck to our three steps and set dates in stone that we had to be prepared by. In addition, we devoted hours and hours of work to make each of our different goals come to reality.
We went to schools and educated (with more to come), we scheduled dates for our art show and film night, and we researched our school's emissions and analyzed them.
We spread word through announcements, posters, human interaction and social media. We made ourselves and our world's issues known simply through the passion and care that we have for this topic.
This project was successful for the reasons that we executed our plans and educated many people making this issue one of the most fore front issues within discussion at our school. We had to overcome issues such as scheduling, rights to uses space, erratic weather, and many other issues.
From this experience, we not only learned how to be activists and advocate but we actually did it. Through this, we learned not knowledge but real life experience that contributed to the spreading of awareness like we hadn't seen before. We have educated over 80 local elementary school students, received hundreds of pieces of artivism from students, understood the vast spread of emissions our school uses and many other things.
This class, these students, and this cause will continue to fight for what is right and just within our world and we won't stop until we see equity for all!
Congratulations to all the teams who entered the 2017 Shane McConkey EcoChallenge. You are all eco-heroes!